3D MediVision, a company that has been supplying online veterinary education content through the service of Veterflix, has expanded its education platform to an offline clinical practice facility.
3D MediVision established "VGTC (Veterflix Global Training Center)" for full-fledged clinical practice training for veterinarians.
VGTC is equipped with a wet-lab facility including real-time 3D broadcasting equipment so that surgery or ultrasonography can be performed directly while watching 3D images of demonstration.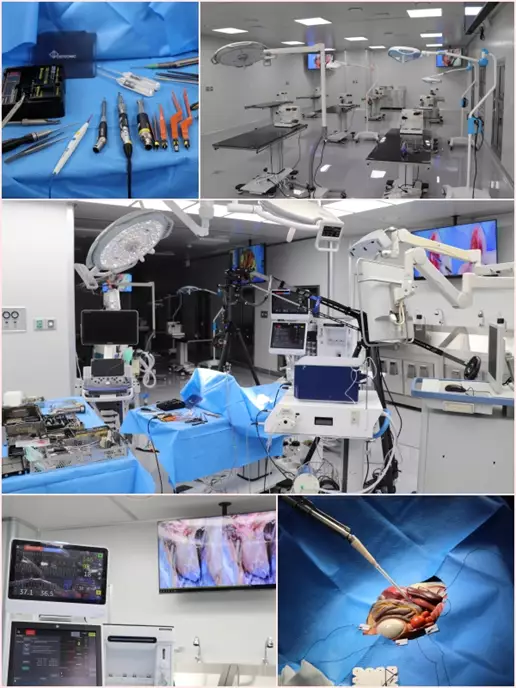 Cooperation of KNOTUS allows wet-lab cadaver supply
3D MediVision's VGTC has created an environment similar to real medical sites such as operating rooms, laboratories, and conference halls in a space that scales more than 800㎡.
The operating and practice rooms are equipped with advanced surgical equipment and 3D video broadcasting equipment. It is also equipped with surgical beds for up to 15 students to conduct wet-labs at the same time.
While the lecturer demonstrates surgery, students can check the lecturer's movements through real-time 3D video. It is a structure in which students can check the demonstration of the surgeon while participating in clinical surgical practice at the same time.
The conference hall located right next to it has seating for 130 people. In addition to supplementary lectures, surgery performed in the laboratory in the next room can be broadcast live in 3D in the conference hall.
One of the reasons why it is difficult for veterinarians to receive clinical practice training is that it is difficult to obtain a cadaver, which is oftentimes the subject of practice. This is because the price of legally verified experimental dogs exceeds 1.5 million won, and other methods such as donated patients' bodies are not widely available.
3D MediVision plans to overcome these limitations through a cooperative system with non-clinical CRO KNOTUS. This is possible by securing experimental animals for clinical practice from the non-clinical tests conducted by KNOTUS.
KNOTUS previously participated as a strategic investor in 3D MediVision. VGTC is also located on the fourth floor of the Songdo office building of KNOTUS.
"VGTC has established a comprehensive infrastructure from 3D educational content production, online and offline high-tech education, all the way to supply of experimental animals," a 3D medical vision official said, "We will provide a global environment for experts to acquire the latest technology and knowledge through total solutions optimized for medical education."
VGTC plans to promote four projects, including live surgery education using: ▲ 3D videos ▲ hands-on courses, one-on-one practical education ▲ providing seminar and conference solutions hosted by businesses, societies, and associations ▲ combined training of online webinars to offline clinical practice training.
General surgery, orthopedic surgery, as well as ultrasound practice, can be trained at VGTC. 3D MediVision plans to open its first practical training program by the end of this year and provide official formal education beginning next year.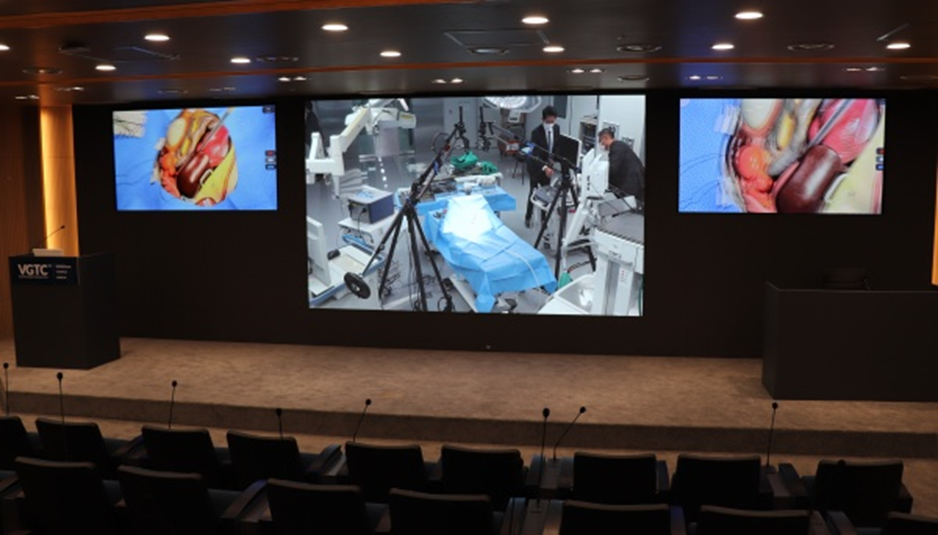 Expanding contents for remote practical training into "Meta-Edu-verse"…Targeting KOSDAQ-listing and overseas markets.
"Starting with the opening of VGTC, we plan to start a 'Meta-Edu-verse' business that allows effective education beyond time and space constraints," said 3D Medivision.
Most of remote education is still limited to one-way video viewing, but the plan for the future is to establish a system that can teach the entire veterinary treatment process on the "meta-verse" platform.
3D MediVision also emphasizes that 3D video educational content, which they are expanding in quantity and quality, is suitable for VR-based services as well.
A company official said, "We have already produced veterinary anatomy training as 3D video content and are supplying it to local veterinary colleges," he added, "We will also start overseas expansion in earnest, in the near future."
3D MediVision succeeded in attracting 10 billion won worth of accumulated investment, spurring preparations for getting listed on the KOSDAQ next year.
As the global edu-tech market, which is in the spotlight as a remote-learning trend sparked from COVID-19, is expected to grow to 400 trillion won by 2025. Some of Veterflix's lecture contents have already been approved for training in continued education from the American Association of Veterinary State Boards.
CEO Kim emphasized, "3D MediVision will leap into the "meta-verse" platform that will allow clinical practice training through collaboration with various domestic and foreign educational institutions."
Original Article: 데일리벳(https://www.dailyvet.co.kr/news/industry/156392)