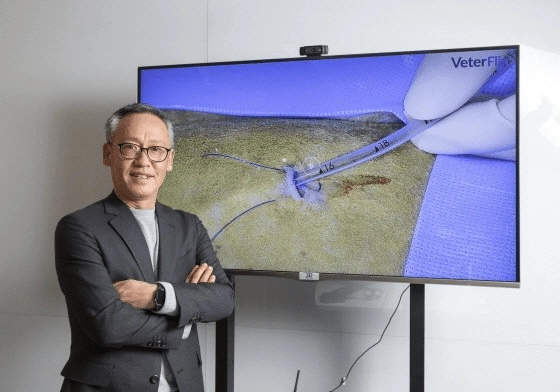 Despite the spread of COVID-19, the companion animal industry (Petconomy) is growing rapidly. From people who spend leisure time with their pets at home, to single-person households and elderly households, the industry stays growing. Particularly in Asia, where the elderly group is growing faster in relation to global trends, the companion animal market is expected to surge.
With advances in veterinary medicine, the lifespan of companion animals is also increasing. In the past, 15 years of age was considered longevity, but recently, the average life expectancy is 15 years and the expected life expectancy is 20 years. An increase in the number of elderly companion animals leads to an increase in medical costs. According to the American Pet Association (APA), surgery costs accounted for 28% of the annual support costs for dogs and cats. It was followed by pet food (21%) and regular checkups (16%).
There is a startup attracting attention due to the increase in demand for medical care for companion animals. 3D MediVision, a company specializing in 3D (three-dimensional) veterinary education contents, is pushing for listing on the KOSDAQ this year.
---
Implemented as Educational Resource in 7 out of 10 Veterinary Medicine Schools… Grand Opening of Asia's Largest Veterinary Training Center
Founded in 2011, 3DMediVision is the first in the world to apply 3D imaging systems to produce veterinary educational content. VGTC (Veterflix Global Training Center), which opened in Songdo, Korea in November last year, is Asia's largest veterinary training facility where 60 people can practice hands-on directly in the operating room and 132 people can receive 3D video training at the same time.
3D MediVision created 3D contents for veterinary anatomy education with Seoul National University's and Konkuk University's Veterinary Department as well as with Korean Society of Professors for Veterinary Anatomy, and currently 7 out of 10 domestic veterinary departments use it. In addition, training programs for veterinarians and animal health workers, which will be implemented from this month, have been completed. Currently, there are a total of 460 educational contents, of which 46 are also serviced in the global market.
CEO Kijin Kim explained that the educational contents and VGTC'S facilities exceed the level of the American educational curriculum with a veterinary specialist system. This is because it consists of various content subjects such as canine anatomy, canine anesthsia, MRI (Magnestic Resonance Imaging) and ultrasound examination, orthopedic surgery, and dentistry.
CEO Kim stated, "We have built the first veterinary platform in South Korea that can be utilized by not only veterinarians, but also veterinary students and animal health practitioners. We made it possible to visualize muscles and nerves in vivid 3D images that used to be difficult to observe due to low supply of cadavers for anatomy education. It most definitely improves the quality of education."
Skyrocketing Interest from China & South East Asia
Veterinary medical equipment companies and overseas veterinarians recognized this outstanding content production and VGTC's facility first. As the number of elderly companion animals increases, the demand for microsurgery (precision surgery) using a microscope increases, but there is no proper educational facility to teach these skills. Due to this, although VGTC has been open for only two months, reservations have already been made from 20 domestic and 6 overseas locations. 3D MediVision allows veterinarians to review their training videos online at any time after they have been trained at VGTC.
CEO Kim said, "3D MediVision provides education at a price that is up to a third of that of the United States. We're getting a lot of educational requests from Chinese and South East Asian veterinarians who often struggle with long flights and jetlag just to have access to this type of education" He added, "We have also received proposals from medical equipment companies to make VGTC a certification-providing training center in Asia."
The fact that 3DMediVision's contents were recognized by the American Association of Veterinary State Boards (AAVSB) is also adding fuel to its potential global success. In the United States, continued education is mandatory for veterinarians to renew their license.
3D MediVision obtained RACE approval for some of its content on the Global version of Veterflix, a veterinary education video platform, from AAVSB of the United States in September last year. A total of 19 contents have been approved to provide CE-credits including Konkuk University Animal Hospital Director, Dr. Hun-young Yoon's, 'Gastrotomy' lecture.
CEO Kim said, "This year, we are actively informing the American veterinary market about the necessity of 3D education. In the latter half of the year, we expect to service English, Japanese, and Chinese versions of more Veterflix content."
---
Content Advancement through National AI Project
3DMediVision was selected as a data voucher support company hosted by the Korea Data Industry Promotion Agency last year, and is upgrading educational contents with artificial intelligence (AI) technology. They plan to develop a system that automatically translates veterinary terms into various languages through AI.
CEO Kim said, "In order to service the produced content in overseas markets, it is necessary to change the veterinary terms into the languages of each country we service. When the task is completed, the content can be searched in various languages, and the captions displayed in the video would also be shown in the corresponding language."
He continued, "In the future, we plan to develop a system so that AI can transcribe what the lecturer is saying and automatically translate it into subtitles. Also, based on securing content IP (intellectual property rights), expanding the VGTC business, and entering the global market, we will speed up the listing on the KOSDAQ."